Cezarina Afteni
Assistant Professor, PhD at Dunarea de Jos University of Galati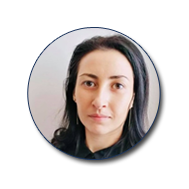 Expertise fields: Process optimization (lead time, down time, machine tools efficiency), Industrial management, Manufacturing process, Product and process design.
Management skills: Coordination of master student papers presented at the National Session of Student Scientific Communications, Galati, 2019-2021; Member of four professional associations: Romanian Society of Automotive Engineers – SIAR, 2021; Professional Association in Modern Manufacturing Technologies – ModTech, 2020; University Association of Manufacturing Engineering – AUIF, 2020; Proeconomic Association, 2020.
International documentary stages/ other training programmes: Certificate of graduation of the postgraduate program of training and continuous professional development "Ethics and academic deontology", in the field of Educational Sciences, carried out within the Department of continuous training and technology transfer, in 2021; Certificate of graduation course "Entrepreneurial Skills", developed within the project "Development, adaptation and transformation into student entrepreneurchip – DATAS", in 2018; Certificate of graduation of "SAP ERP" and "SCHOOL MANAGEMENT" courses, within the project "Training of university staff and students in the use of modern IT tools in the field of university management", in 2013.
Research management skills: Research member of the project entitled "Intelligent Manufacturing Technologies for Advanced Production of Parts in the Automotive and Aeronautical Industries (TFI PMAIAA)", funded by contract no. 82 PCCDI/2018, Faculty of Engineering, within the "Dunarea de Jos" University of Galati, responsible for a complex proiect : Prof. Dr. Eng. Viorel PAUNOIU.
Relevant publications in the project domain:
1. C. Afteni, G. Frumuşanu & A. Epureanu, "Method for Holistic Optimization of the Manufacturing Process", International Journal of Modeling and Optimization (IJMO 2019), vol. 9, art. no. 5, pp. 265-270, 2019. DOI: 10.7763/IJMO.2019.V9.721.
2. C. Afteni, G. Frumuşanu & A. Epureanu, "Instance-based comparative assessment with application in manufacturing", International Conference on Modern Technologies in Industrial Engineering (ModTech 2018), vol. 400, art. no. 042001, pp. 0-8, 2018. DOI: 10.1088/1757-899X/400/4/042001.
Proposed Topics in Program: Quality management, Supply chain, Admistrative tasks